How Does EmSculpt Neo Work?
EmSculpt Neo is the only non-invasive body-contouring procedure that combines high intensity focused electromagnetic energy (HIFEM technology) to tone muscles, and radiofrequency heating to burn away stubborn fat. Studies have shown up to a 25% muscle increase* after just one treatment session and best results after four sessions!
20,000 Sit-Ups in 30 Minutes!
EmSculpt Neo body tightening is like doing 20,000 sit-ups in just half an hour's time! At New Horizons Med Spa, we use this technology to tighten the buttock, abdominal muscles, calves, and upper arms, creating a treatment plan to produce the best results for a patient's individual body type and goals.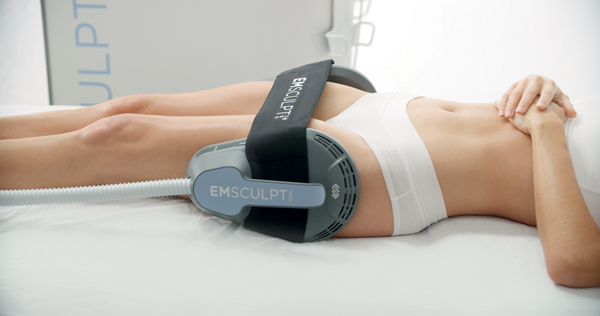 Benefits of EmSculpt Neo
We're excited to offer a way to boost confidence, build muscle and burn fat along with the following advantages:
It's a comfortable, non-invasive treatment
There's no downtime or recovery
It offers a quick and convenient treatment time
It offers control over muscle building and fat burning
It targets calves, biceps & triceps, buttock, and abdominal muscles
There are immediately visible results
What to Expect During Your Treatment?
The body-contouring treatment is comfortable, you can relax as two panels are attached to areas of your body as they apply electromagnetic energy. These powerful contractions create a metabolic reaction that builds muscle tone while melting away fat cells.
Some of our patients in Chandler, Arizona have compared EmSculpt Neo to the feeling of a hot stone massage or an intense workout.